Hi, Wishes of a Blue-Eyed Girl readers! I'm Sara from
Born For A Storm
. I'm stepping in for today with a quick comparison post for Julie! (Disclaimer: both of these polishes were purchased by me, because I feel the need to own every grey thing in the world.) Today we're going to be looking at grey jellies full of red glitter!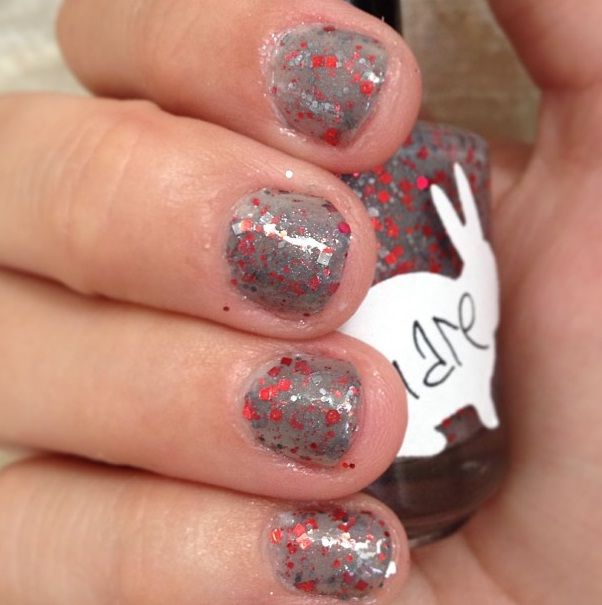 Hare - Swanky Soiree.
This polish was a Holiday 2012 limited edition from the brand. Isn't it beautiful? I missed it when it came out but was finally able to track it down via a blog sale. Lucky! It's a grey jelly with hex and square shaped red glitters. There's also a few grey glitters in it and a subtle silver shimmer. It's gorgeous, but you can't get it anymore, which leads me to...
Happy Revolution - Flip Flip Flipadelphia.
This polish is so similar that it's silly to own both. (Unless you are me, who needs to own all the grey.) It's a grey jelly, with red, silver, and grey glitters. The main difference is that there is a lot less red and silver shimmer in this polish than in the Hare, but I still think it's similar enough to be an adequate substitute! This polish was an
It's Always Sunny In Philadelphia
-inspired collaboration between
Happy Hands
and
Polish Revolution
and is currently available in both of their shops. (My lighting was a little different for this photo and I apologize. I promise they are both very, very similar.) Both of these polishes are shown with basecoat, 2-3 coats of polish, and topcoat. They both got a little gloopy as I added coats, as glitters tend to do. I wasn't surprised by this, and I don't think that it's necessarily a flaw in the polish; it's just something that happens. I think, in the future, when I'm wearing them instead of just doing swatches, I would put on an opaque grey cream, and then just one or two coats of polish. I hate when glitters get really thick, so using a base polish is something that I really like to do. Both of these dry a bit gritty, so a thick coat of topcoat would be a good idea. In conclusion, both are gorgeous, one of them is still totally available. If you want to come over and follow my blog, you can
click here
or follow me on
Bloglovin'
! Though, I will say that I post more frequently on Instagram, so you can
follow me there
as well, if you want. Many, many thanks to Wishes of a Blue-Eyed Girl for hosting me today!
_________________________________________________________________________________
A huuuuuge thank you to Sara from Born for a Storm for doing my weekly comparison post! I don't have either of these polishes, so I'm super glad she volunteered! Make sure you're following Sara over at Born for a Storm, but DEFINITELY make sure you're following her on IG because she's more active over there.